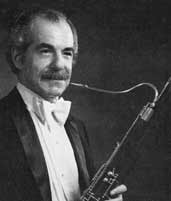 Born in Virginia, Minnesota, Sherman Walt acquired a love of music from his mother, who played the piano for silent movies.
His musical education at the University of Minnesota was financed by Dimitri Mitropoulos, at that time director of the Minneapolis (now Minnesota) Symphony.
During World War II, Mr. Walt served with the 82nd Infantry Division in Europe, winning a Bronze Star. He completed his training at the Curtis Institute of Music in Philadelphia and spent five years as principal bassoonist of the Chicago Symphony before joining the Boston Symphony Orchestra in the same capacity in 1953. Mr. Walt was a founding member of the Boston Symphony Chamber Players and taught at the Tanglewood Music Center and New England Conservatory in Boston. He also spent a number of years on the faculty at Boston University.